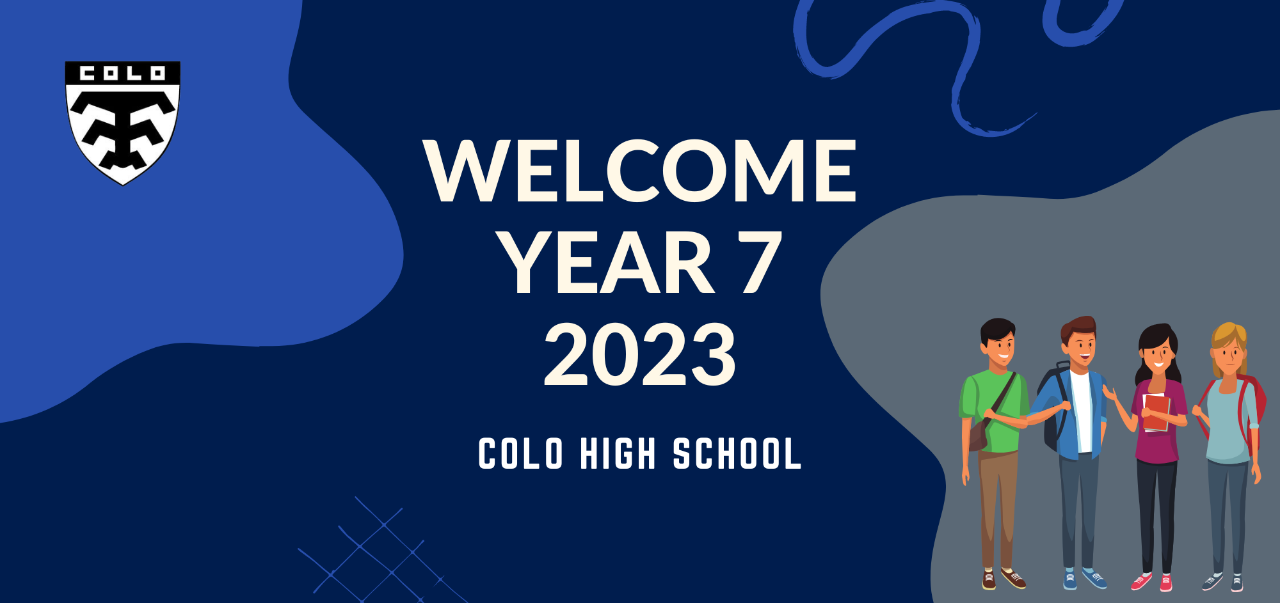 Welcome, Year 6 students, parents and carers,
I have met many of you wonderful students already across our transition days, however there are some that I may not have met yet and I would like to take this opportunity to welcome you all to Colo High School in 2022.

But who am I? My name is Miss A. Lynch and I will be your Year Advisor in 2022. As your Year Advisor, I will be your first point of call for any support you may need whilst at high school. You can find me in the PE/LOTE staffroom, which I will make sure to show you how to find when you visit later this term.
I look forward to getting to know you all over the next fews years and can't wait to see all your smiling faces.
Miss A. Lynch
Year 7 Year Advisor 2022 
Important Dates

A key date for all parents and students is scheduled for Tuesday 23rd November 2021 which is the Orientation Day for all Year 7 students. We will be delivering this session via Zoom at 6pm. Details will be emailed to you soon. We will also be holding a face-to-face Transition Visit on Thursday 2nd December 2021 for students only from 9.15am - 12.45pm. This event will be pending advice from NSW Health. We are working with our local Primary School to finalise the details and will communicate these to you.
Helpful Links

BYOD (Bring Your Own Device) Program 
The school recognises the need to prepare our students for the rapidly-changing world, where technology plays a large role in our personal, social and professional lives.  Our Bring Your Own Device or BYOD Program will help aid students need for understanding and working with technology by encouraging students to bring their own laptop to school for the purpose of learning.
More information can be found on our BYOD information page.
Location and Transport

We understand that as a parent or carer, getting your child to and from school safely is a priority. For information on our school location and travel arrangements to preplan your trip to and from school please visit our location and transport page.
Opal Cards

The School Opal card gives eligible school students free or subsidised travel on public transport between home and school on trains, buses, ferries and light rail in the Opal network. Find out more on Opal cards for secondary school students.
Rules and Policies

Rules and policies are in place to make sure your child remains safe and well at school. 
Visit the NSW Department of Education's policy library for all current operational policies and the Colo High School Rules and Policies page for more information.
Parent and Citizen (P&C)

The Colo Parents and Citizens Association (P&C) is a strong volunteer based parent representative body that serves as the voice of our parents and advocates for our students. More information about our P&C is available on our P&C page.
Uniform Shop and Canteen

When students wear a school uniform, they feel included in our school community. Parents and students can purchase their new school uniform at our Uniform Shop, which is conveniently located on the school grounds next to the school canteen. 
Our Uniform Shop opening hours are:
Monday: 7:30am–1:30pm
Wednesday: 7:30am–1:30pm
All canteens in NSW public schools must meet certain requirements. These include providing more healthy food and drink options – to make the healthy choice an easy choice for students. Visit Healthy school canteens to learn more. The Colo canteen proudly meets these requirements and offers a wide variety of healthy food options and daily specials. 
The canteen opening hours are:
Monday, Tuesday, Wednesday and Friday: 7:30am–1:30pm
Thursday: 7:30am–12:30pm
The menu and other information can be found on our Canteen and uniform page.
Social Media

To keep up-to-date with the latest information, student activities and more by following @ColoHighSchool on Facebook, Instagram and Twitter.